Bringing Hope To Survivors Of Fallen First Responders.
The 100 Club of Illinois Educational Assistance Program provides tuition assistance and career mentorship to the dependents of 100 Club heroes.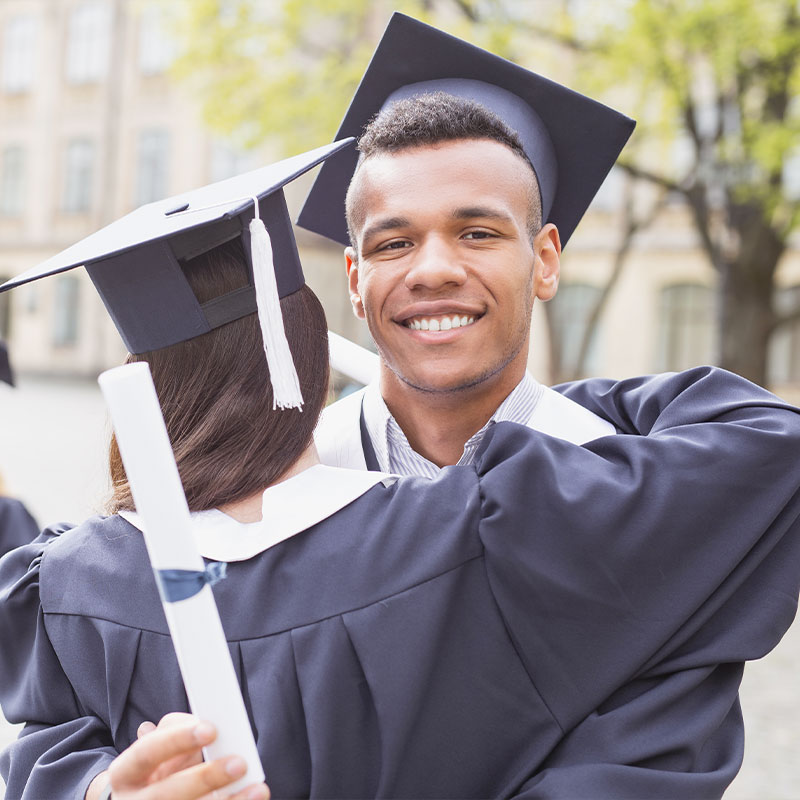 About Our Educational Assistance Programs
The 100 Club of Illinois Educational Assistance Program exists to provide funding and resources for surviving dependents of fallen first responders in the State of Illinois. Assistance is provided for post-secondary education, whether a college, university, trade, or vocational school. To date, the Club has assisted 291 Scholars who have conferred 339 degrees since 1980.

The Larry J. Vincent Memorial Scholarship
Created by the sons of Chicago Police Officer Larry J. Vincent, this program supports a 100 Club Scholar attending a private institution with four years of membership from a 100 Club alumnus and a financial stipend of up to $2,500 annually for textbooks. For more information see: LJV Memorial Scholarship
Illinois Student Assistance Commission (ISAC) – Grant Programs for the dependents of Policeman/Fireman or Correctional Officer
These grants provide payment toward tuition and mandatory fees for spouses and children of Illinois police/fire/correctional officers killed or at least 90 percent disabled in the line of duty. Recipients must be enrolled on at least a half-time basis and may receive up to 8 semesters/12 quarters of payment for undergraduate or graduate study. Scholars must be attending an approved Illinois public and private, two- and four-year colleges, universities, hospital schools, and certain other degree-granting institutions.
Public Safety Officers' Benefits Program Educational Assistance Benefits (PSOEA)

The Public Safety Officers' Education Assistance (PSOEA) Program provides financial assistance, to seek higher education, to the spouses and eligible children of local police, fire, and emergency public safety officers who have been killed or permanently disabled in the line of duty. Educational assistance through the PSOEA Program is available after the Public Safety Officers' Benefit (PSOB) death or disability claim process has been completed and benefits have been awarded. The spouse of a public safety officer is eligible to receive PSOEA funds for educational expenses at any time during his or her lifetime. However, for a child of the deceased or disabled officer, eligibility is limited to educational expenses that occur before his or her 27th birthday. Also, a spouse or child is eligible to receive PSOEA funds for a period no greater than 45 months of full-time education or a proportionate period of a part-time program.
The 100 Club of Illinois University Partners provide up to two full scholarships for our 100 Club Scholars each year. University Partners provide more than $500,000 of assistance to 100 Club Scholars obtaining their higher education goals. We thank them for their support of our Educational Assistance Program.
Benedictine University

College of Lake County

Columbia College Chicago

Concordia University

DePaul University

Dominican University

Drake University

Elmhurst College

Illinois Institute of Technology

Indiana Tech University

John Marshall Law School

Judson University

Kent College of Law
Lewis University

Loras College

Loyola University Chicago

Northeastern Illinois University

Northwestern University

Robert Morris University

Roosevelt University

St. Xavier University

UAB School of Health Professions

University of Chicago

University of Illinois – Champaign
University of Illinois – Springfield
Valparaiso University